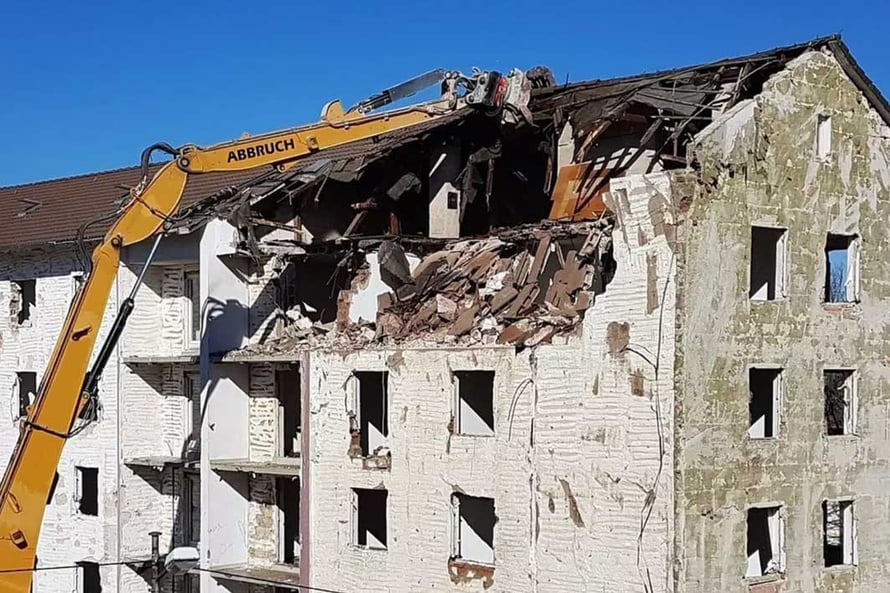 The OECD estimates 10-30% of the investment in publicly funded construction projects may be lost to corruption
Blockchain could increase the fairness and efficiency of government systems, while reducing opportunities for corruption;
Blockchain could improve the transparency and disclosure of procurement processes, investment in which can be lost to corruption;
The emerging technology can also enhance property and land registry systems, streamlining lengthy processes and protecting people's rights.


Governments regularly have to make trade-offs between efficiency and fairness in their services. Unfortunately, choosing one over the other often increases the likelihood of corruption. In efficient systems, the public is largely content to operate within the bounds of that system; inefficient systems cause large numbers of individuals to seek less-than-legal workarounds. Similarly, fair systems engender trust, pride and a sense of community; while unfair systems encourage individuals to seek out illegal alternatives without remorse.
Occasionally, new technologies come along that offer the opportunity to increase both efficiency and fairness. Blockchain is one such opportunity and it has a variety of use-cases for government applications. Here are two in more detail:
Blockchain and procurement
Public procurement is the process of governments acquiring goods, services and works. It represents a significant portion of governmental budgets, accounting for 29% of general government expenditure totalling €4.2 trillion in OECD countries in 2013. With so much money at stake, it is unsurprising that OECD estimates 10-30% of the investment in publicly funded construction projects may be lost to corruption.
Public procurement is vulnerable to corruption for a number of reasons. Parties in the procurement process, both on the public and private sides, are induced into corrupt acts by the size of potential financial gains, the close interaction between public officials and business, and how easy it is to hide corrupt actions. Blockchain has the potential to protect against these weaknesses at almost every stage of the procurement process.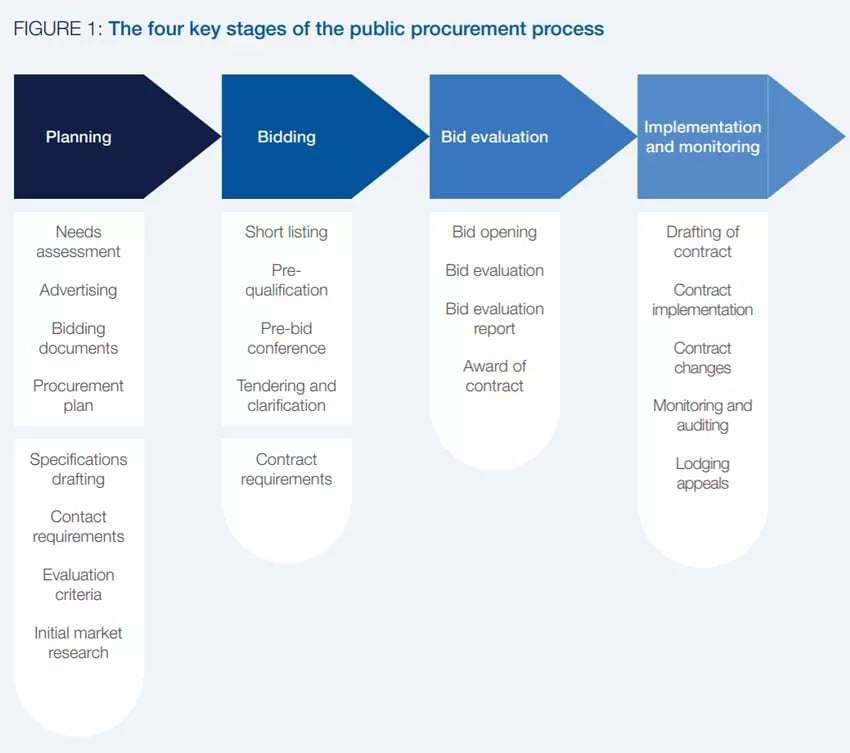 Image: World Economic Forum
In the planning stage, public officials create evaluation criteria by which bidding companies will be judged. In the bidding evaluation stage, public officials assign scores to companies using the evaluation criteria as their rubric. Without transparency, there are many opportunities for compromised public officials to rig the outcome of the evaluation process. Evaluation criteria could be retroactively changed or company bids altered, for example. Blockchain can guarantee any change is public, the original information is retained and there is a record of who made the change.
Blockchain can also encourage a wider coalition of stakeholders to participate in and monitor procurement cycles. Too often, the most active stakeholders in any given procurement process are the public officials and the businesses directly involved – a potential problem when more than half of all foreign bribery cases likely occur to obtain public procurement contracts. Watchdog organizations, end-users, the media and citizens are discouraged from participating because procurement information is not readily available, untrustworthy, modified and/or delayed. Blockchain can provide an easily accessible, tamper-proof and real-time window into on-going procurement processes.
Projects integrating blockchain into procurement, such as this pilot programme in Colombia, conclude that "blockchain-based e-procurement systems provide unique benefits related to procedural transparency, permanent record-keeping and honest disclosure." The Colombia project noted several drawbacks, such as scalability and vendor anonymity, but newer proposals like this one to overhaul India's public procurement system are taking steps to overcome those and other shortcomings.
Blockchain and registries
Land title registries track the ownership of land and property for a given region. Registration titling systems have had important consequences for the economy, leading to "better access to formal credit, higher land values, higher investment in land, and higher income." Yet they are far from perfect. They are inefficient, for example, closing a property sale can take months and typically consumes 2-5% of the purchase price of a home. Registration systems can act as bottlenecks for land transactions. There are complaints going back to 2015 of England's Land Registry having six-month transaction delays and similar complaints persisted in 2020.
The inefficiencies in land titling systems are a major source of corruption. The Organized Crime and Corruption Reporting Project's 2019 report on land registry corruption in Bangladesh found that obtaining a licence as a deed writer incurs a bribe to the highest-level administrators. Land registry corruption is not restricted to developing regions: in regions with longer histories of legal stability, it simply becomes more complex. Anti-corruption NGO, Global Witness, estimated in 2019 that £100 billion worth of property in England and Wales was secretly owned by anonymous companies registered in tax havens.
A good first step to fight corruption is by cutting down inefficiencies. Blockchain can streamline much of the process. Take, for example, the number of steps required in the UK for one person to sell property to another person and compare this with a blockchain-based registry system.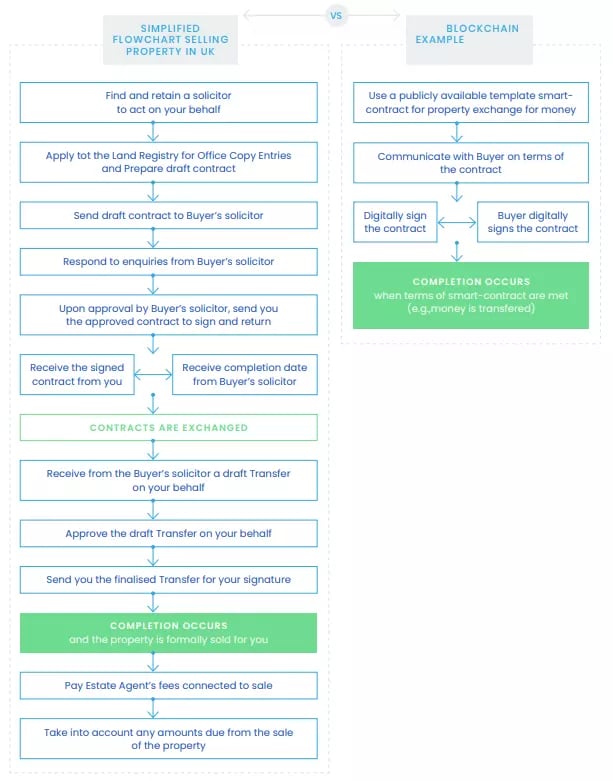 An urban land registry project underway in Africa uses blockchain to address the problems of digitizing urban land registries. In many densely populated impoverished urban areas, no pre-existing land registry or paper trail exists. Relying on the meagre data available often causes legal disputes. Courts quickly become overwhelmed and digitization efforts stall.
Blockchain is now being added to the project. To confirm property rights, the new system seeks out and consults community elders. Through a blockchain-based application, those elders receive the authority to confirm the validity of land registry claims. The elders can check directly with residents if they consent to the land assessment. By delegating cryptographically guaranteed authority to respected community members, the quality of the data is improved and the number of land dispute cases handled by the judiciary should decrease. Finally, the remaining cases should resolve faster since the elders' cryptographic confirmations are admissible as evidence for land dispute resolution.
The final challenge: adoption
The government blockchain-based projects referenced in this article represent just a few of a growing number of pilot or in-production applications of blockchain. This shows that governments are serious about fixing inefficient and unfair services. The potential gains from blockchain are substantial, yet as a new technology, there are many challenges in designing and implementing blockchain-based applications. For large institutions such as governments to deploy blockchain-based applications in a timely fashion and reap the benefits, education and tools are imperative
This article written by Matthew Van Niekerk, Co-Founder & CEO at SettleMint, was originally posted on the World Economic Forum.